Robin's transformation talk, The Wisest Investment, brings her book of the same name to life. Parents will be entertained as they learn why it's important to teach their kids about money, how to go about it and what to talk about. You will leave feeling empowered and inspired to teach your kids to be responsible, independent and money-smart for life.
The Wisest Investment can be delivered as an in-person keynote, breakout session or workshop. Another popular format is a one-hour virtual fireside chat. Please contact us to put a date on hold.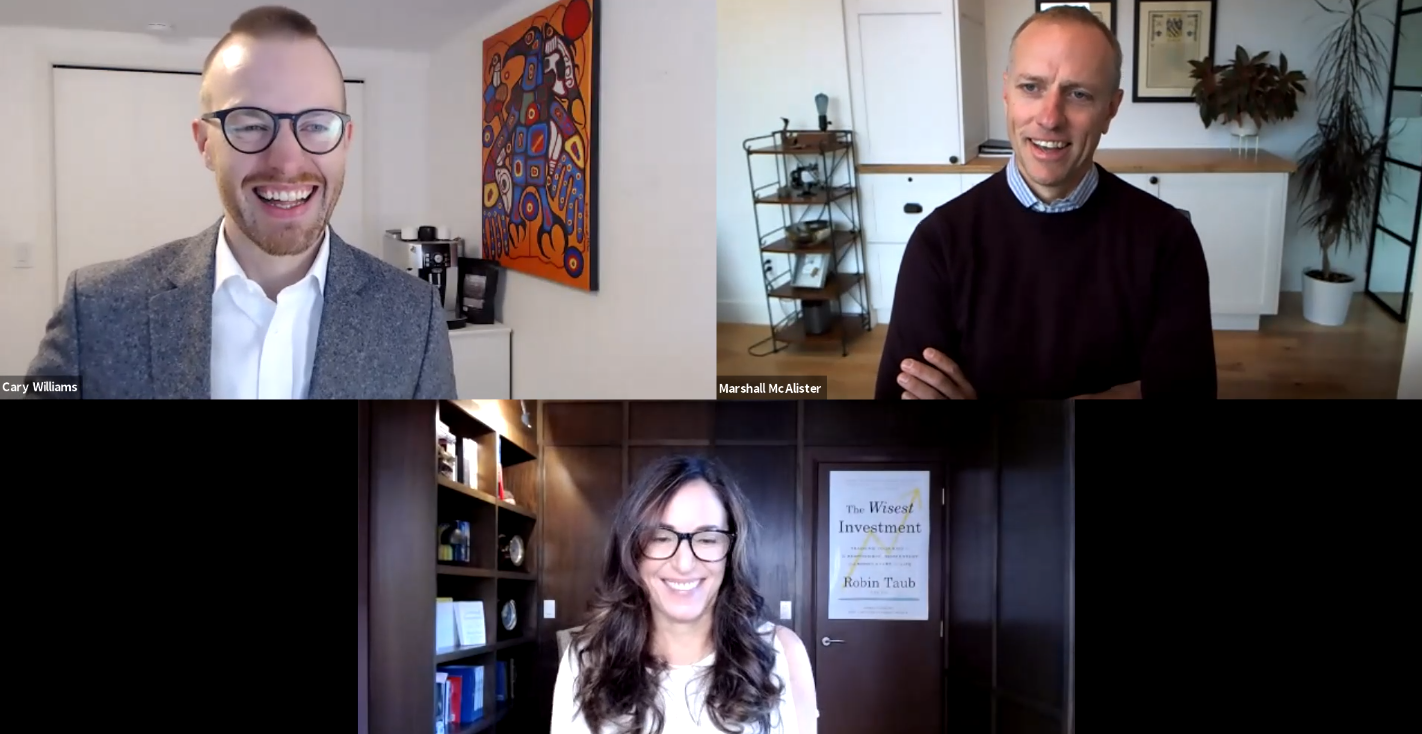 In July 2021, Robin delivered her keynote speech, The Wisest Investment, in Lambertville, New Jersey.
Robin is also a sought after panelist on most any financial topic, from budgeting, saving and investing, to paying for post-secondary studies.
The biggest audience Robin has addressed to date was at the Walrus Talks Philanthropy, where she had to take the stage right after Margaret Atwood – a Canadian living legend! Please visit Appearances for a list of upcoming and past speaking engagements.
The Wisest Investment: Teaching Your Kids to Be Responsible, Independent and Money-Smart for Life
Most parents know that teaching their kids about money is critical to success in life, but studies show that many parents feel they lack the time, knowledge and experience to do it well. Add the seismic shift towards a cashless, digital society – accelerated in our post-pandemic world – and it's easy to feel overwhelmed.
In The Wisest Investment: Teaching Your Kids to Be Responsible, Independent and Money-Smart for Life, you will learn why the wisest investment is teaching your kids about money. Robin will review the consequences if you don't teach them, the rewards if you do and some of the challenges parents face.
Then she will teach you how to raise responsible, independent, money-smart kids for life, with three east-to-implement strategies:
instilling solid values in your kids, to help guide and prioritize their financial decisions,
capitalizing on "teachable moments" about money in countless everyday scenarios, and
being a good financial role model so you can lead by example.
You'll also learn what to talk about with your kids at different ages and stages, using what Robin calls the Five Pillars of Money. 
The stakes are too high to leave this crucial education to chance. Raising kids with good financial habits, grounded in a solid understanding of and respect for money, will pay off in numerous ways. It just may be the wisest investment you make!
Upcoming Appearances
Recent Appearances
December 5, 2021: Robin led a virtual Family Office workshop. This was a private event.
September 28, 2021: Robin hosted a virtual discussion on Intergenerational Money Conversations for Mercer's Edmonton and Winnipeg offices.
September 22, 2021: Robin cohosted a virtual fireside chat about The Wisest Investment, hosted by the Investment and Economics Book Club of Toronto.
May 27, 2021: Robin delivered her virtual keynote, The Wisest Investment: Teaching Your Kids to Be Responsible, Independent and Money-Smart for Life. This event was hosted by Derek Cooper, Senior Wealth Advisor, Scotial Wealth Management.
March 12, 2021: Robin participated on a panel discussion at the Women and Financial Literacy Conference, hosted by futurfund.
"Robin knows kids and money. She is smart, passionate and proven."
-Bruce Sellery, Money Columnist for CBC and Cityline
"Robin hosted a financial discussion for our North Toronto Moms Group, over Zoom, during the pandemic. During this time, many families are reviewing finances and planning for their families and education. Robin was active in learning about our group's needs and executed a highly informative presentation and discussion with participants. Concrete examples were provided and we received very positive feedback. We would love to have Robin back in future and highly recommend her as a speaker on the topic of raising money-smart kids!"
-Caitlin Winberg, North Toronto Moms Group
"
Robin was the featured speaker at our "Growing Up Affluent: Speaking with your Children About Wealth" event last night in Montreal. A crowd of 50 clients and "friends of the firm" enjoyed Robin's no-nonsense, yet enlightening and entertaining presentation. The audience included parents of kids from 1 to 23, and all took some meaningful suggestions back home. The response was overwhelmingly positive. W

e got lots of compliments on our choice of topic, speaker and your presentation. Sincere thanks for your great work here."
-Ronald Mayers, Senior Vice-President, Wealth Management, Blue Bridge
"
Robin has conducted financial training sessions to our next generation of family members five years consecutively and I highly recommend her. Robin is able to provide both theoretical and practical financial training, and leverages her strong knowledge of today's online tools. She has developed an excellent relationship with our attendees, and has established herself not only as a skilled trainer but also as a trusted advisor.
"
-Kevin Doyle, Executive Vice President at Canada Overseas Investments Limited
"Robin recently led a keynote speech at the Canadian Personal Finance Conference on how to raise money-smart kids, which was very well received by the audience. Robin summarized takeaways from her book of the same topic and gave the audience actionable advice for their families. We'd love to host Robin again and would recommend her as a financial expert!"
-Kerri-Lynn McAllister, Tech Leader, Former CMO at Ratehub and Life & Co
"Robin is an amazing speaker! I've had the pleasure of hearing her speak many times and I am always inspired. She teaches parents how to guide their children through one of most sensitive and important topics in their lives: MONEY! Robin is incredible."
-Amanda Bassin, CPA, CA, Managing Director, Madison MacArthur
"Robin crafted a highly engaging and relevant keynote address at Mt Royal University to stimulate conversation about one of the long-standing challenges – gaps in gender and diversity inclusion – that prevents Canada's accounting and finance profession from realizing its full potential and impact. The in-depth research and expertise she skillfully applied in her presentation brought a level of critical insight to the topic that deeply impacted her audience's awareness and understanding. She was instrumental in designing the event and her experience in these kinds of learning exchanges made a significant difference to the success of the day."
-Nicole Edge, Business Consultant, Writer, Researcher, Educator, Mount Royal University
"Thank you Robin for your keynote address at the recent University of Toronto Financial Conference. It is refreshing to have such a well-spoken and engaging speaker who represents both the accounting profession and entrepreneurial spirit. The students benefited from your advice on thinking strategically and taking risks, and caution from simply taking the first offer that comes their way. This messaging that is often understated during their transition to professional life. Thank you again for sharing your experience with us!"
-Sean Mullin, Recruiter, Career Coach, CPA Ontario
"As a speaker, Robin is authentic and engaging. She spoke to a group of recent and soon-to-be university graduates, and although they lack her life experience, she was able to explain her career story in a way that made them laugh, and understand her key message: that finding some of the most interesting and rewarding work you will do requires taking the risk of saying "yes" to ambiguous situations and working your way through them!"
-Jennifer Davies, Educator, University of Toronto, Scarborough